FOLK-05
International art-project at the Lista lighthouse on the southern coast of Norway in 2005, to celebrate Norways independence from Sweden in 1905.
FOLK-05, internationellt konstprojekt vid Lista Fyr vid Norge sydkust sommaren 2005. För att fira Norges befrielse från Sverige 1905. Jag arbetade fram två konstverk under de två veckor som vistelsen varade.
På vandring,  "Wandering"
Vid Verevågens rullstensstrand flyttade jag sten så pass att där bildades en synlig gräns och placerade ut mina målningar av människor på vandring korsande denna gräns. Det må vara att fysiskt korsa en gräns mellan länder, fly från något eller till något, eller att överskrida sina egna gränser. Som markörer eller oroshärdar placerade jag slumpartat stenar klädda i chockrosa pälstyg.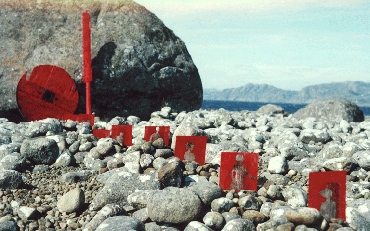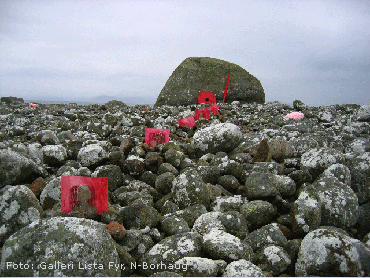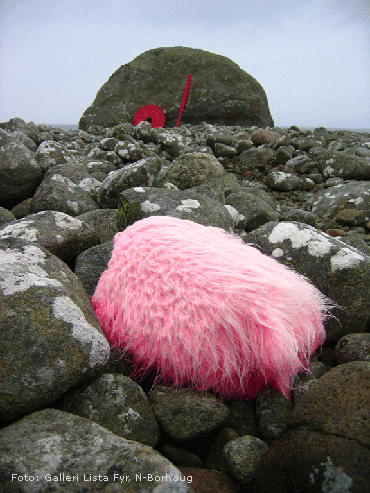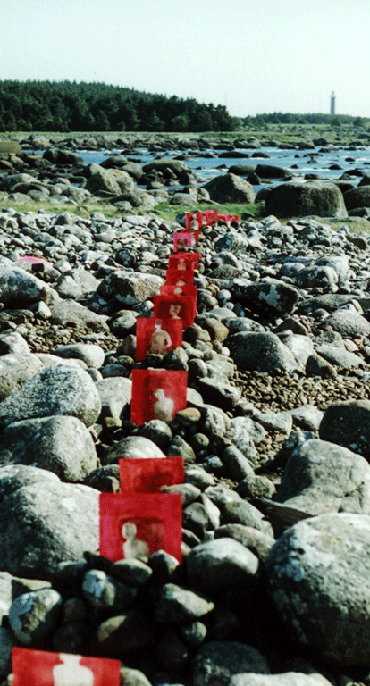 Människorna på de små målningarna är genombrutna av en växtlighet, något som återkommer i mitt andra konstverk, Dansegulvet, som ett grundmönster: Detta gamla betonggolv till en tysk barack från kriget med dess obehagliga associationer ville jag förändra till något som kan skapa glädje: dans! Jag målade slingor i svart och vitt och planterade röda pelargoner. Till sist doppade jag fötterna i grå färg och klev runt i en improviserad dans.
Below: "The Dance Floor"
the concrete floor was the remains of a garage for German vehicles during the occupation of Norway under  world war II. I wanted to give it a little more positive associations.